SECURITY & SAFETY FILMS
Reduce the risk of getting robbed with VISTA™/Llumar™ Magnum security film. How? This special window film is made to hold glass together should it experience a strong impact. Instead of being able to easily make a hole or shatter through the glass, a thief would need more time and effort to break into your shop. Your store becomes less of a target for a smash and grab situation.
Another benefit of this window film is there is less chance of anyone in the store being injured due to shards being strewn everywhere. VISTA™/Llumar™ security film prevents the spread of broken glass by keeping it somewhat contained within the film. This type of glass is actually required in daycares and preschools. Why? To protect kids in case of accidental glass breakage.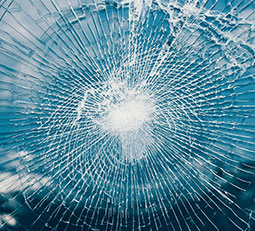 Safeguard someone from choking on a random piece of glass by installing a safety/security window film to your food service building. A sudden storm can break glass but with a window film, it won't shatter into little pieces and get in the food being prepped. Some golf courses have this film in the clubhouse to protect clients from an accidentally off-kilter swipe of the golf club.
---
Where are some other areas that we have installed Vista™/Llumar™ security film?
Elevators
Restrooms
Display areas
Architectural elements
High-traffic areas with windows or other surfaces are vulnerable to costly vandalism. Save yourself the costs of replacing a window and get a protective layer instead. Call us to get the job done.
SECURITY & SAFETY SHOWCASE