COOLVU TRANSITIONAL FILMS
Do you have an office with lots of windows? Is the sun glaring in on you, making it hard to read your computer screen or uncomfortable to sit in the extreme heat all day? You need CoolVu transitional window films. Why? CoolVu uses technology to its advantage and offers you window film that is the world's first stable climate-responsive film. The film transitions to a darker tint on days with lots of sun to keep you cool. It remains unchanged on cloudy days and during the night, providing you with a clear view of outside while maximizing any sun coming through.
Maximized Natural Light
Rely less on artificial lighting with CoolVu. Some types of man-made light are harmful to your cells and can cause skin cancer after prolonged exposure. You wouldn't live in an unsafe environment so why work in one? Improve the well-being of you and your co-workers with proper amounts of sun exposure without the harsh glare that comes with it.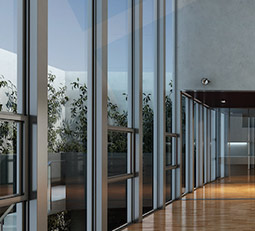 ---
Save on energy bills!
Here in Alberta our energy bills eb and flow with the seasons, but what if we told you that there is a way that you could regulate your energy consumption and bills, while maintaining a comfortable working environment for you and your staff. CoolVu window film technology adapts to the amount of sunlight that is permeated through your office windows, allowing the environment indoors to maintain itself, no matter what the temperature outside is. Say goodbye to endless hours of air conditioning and hello to consistent temperatures. Save money and increase productivity with CoolVu window film technology.
The dynamic and adaptable nature of CoolVu window films allows you to enjoy the natural light within your working environment without experiencing the harsh rays or uncomfortable heat that comes with it. These window films are cost effective to install and will save you money on heating and cooling costs over time.
Did you know that CoolVu films can also help protect your furniture, walls and flooring from sun damage?
---
Improved Productivity
Do you find your employees are losing out on vital work hours due to the uncomfortable heat beating down on them? Let your staff work comfortably throughout the day without the need to take numerous breaks from the hot sun coming through the windows.
---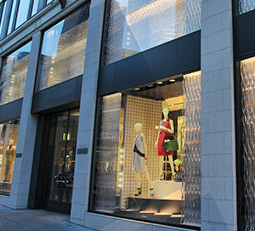 CoolVu Window Films:
Blocks 99% of UV radiation
Stops 80% of the sun's IR heat
Transitions up to 35% in direct sunlight
Safe for LowE and insulated glass
WARRANTY
CoolVu Window Films have 10-year commercial coverage warranty from the date of installation. What does this mean? You are covered if your windows have any sort of defect such as blistering, peeling, turning purple or bubbling.
Free Consultation
Our window film experts at Spectra Light can offer you a variety of film choices for your needs and our professional installation is sure to save you time and money. Call for a free consultation today!