SOLAR FILMS
Our friendly, talented team at Spectra Light offers VISTA™ Solar Control Window Film so you can live comfortably.
Heat Reduction
Do you find yourself constantly fidgeting on the couch when reading your book because you just can't get comfortable in the glaring sun shining through the windows? When you get VISTA™ solar control window film installed, solar heat can be reduced by up to 83%. Go ahead, enjoy your favourite romance novel in your sunny spot without the extreme daytime heat. Solar film will protect surfaces and furniture in your home from dangerous UV rays, all while helping to reduce your monthly energy costs. Our green and environmentally friendly film will help maintain and/or cool the climate in your home, reducing energy consumption and lowering your bills!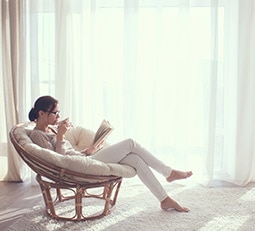 ---
Distortion Free
Maybe you are concerned a window film will stop you from seeing outside. Your favourite woodland creatures will never know you are staring at them because the film we use gives you a clear view from the interior while providing privacy from the exterior. Your view will be the same as it was before your newly installed window film, only now you can benefit from them, distortion-free. Imagine being able to enjoy the views from your home with wide open windows that still offer privacy and comfort. Window films are low maintenance and don't take up space, so you can enjoy your view without clunky blinds or heavy curtains.
---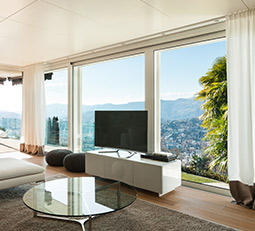 Glare Free
Are you finding it difficult to watch your new tv show or movie due to the sun's glare coming through the windows? VISTA™ window film reduces glare, making it easy to watch even the darkest scenes in your movie. Don't worry about closing the blinds or curtains to enjoy a glare free viewing experience, window film allows natural light to flow through your windows without an annoying glare.
Residential solar films are a great add on to the windows of your home. They are affordable, low maintenance, installed in a timely manner and will save you money long term. Enjoy the benefits of natural lighting without harsh UV rays or unwanted heat transmitting through the glass. Contact our team at Spectra Light to learn more!
---
Surface Temperature Tested
Ouch! You just sat on your couch only to feel the burn of the sun's rays off your black leather upholstery. With an installation of window film, you can lay down directly in the sunlight without having to deal with the heat. The window film's insulating property offsets some of the sun's heat transfer to the material on your couch.
---
Fade Reduction
Stop worrying about your furniture, floors and artwork fading away in the sun. The VISTA UV Shield™ (a separate layer within the window film) dramatically helps reduce the fading of your precious belongings.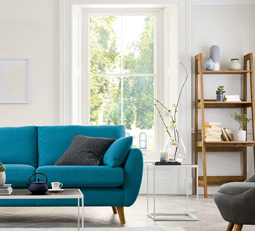 ---
UV Ray Reduction
UV rays are damaging to our skin and can cause cancer. The VISTA™ patented window film is recommended by the Skin Cancer Foundation since it reduces UV rays by 99.9%. With 1,000 SPF, VISTA™ patented window film gives you 10X the protection of a regular window.
---
What else makes our VISTA™ window film a great choice for your home or workplace?
Unmatched track record in scratch resistant coatings
Can use regular cleaners with Ammonia which most competitive films cannot
WARRANTY
The VISTA™ products we install come with a great warranty. There is a no-charge Lifetime Transferable Residential Warranty, 5-year Thermal Shock Warranty, and 3-year Seal Failure Warranty (the last one being based on new windows). For a small cost, you can upgrade the Residential Warranty to a Gold Warranty, matching the warranty of the window manufacturer.
Are you ready to install window film but want to ensure the quality? At Spectra Light, we only use distilled water during our installs to ensure high quality.
Decisions can be hard so let us help you discover which VISTA™ film will work best for you. Contact our window professionals for a free in-home consultation. In the meantime, come visit our showroom where we can provide you with samples and information to help you see clearly and make that decision.