DESIGNER AND ETCHED FILMS & PRINTED GRAPHICS
At Spectra Light Window Films, we specialize in custom designs.
Do you need advertising to get noticed or a private window space design that suits your business? We can fill these needs with our array of films. You may want a discreet professional look or to add an eccentric edge to your business, whatever it is, we can create something to suit your style. Our computer plotters can cut out company logos and designs to make your business stand out.
Commercial window films are used in spaces such as boardrooms, sidelights, and exterior windows. Pick the space you want us to decorate and we will have one of our installers over to do the work. Maybe you want to look at the options we carry in our shop; come by to see us and ask any questions you may have. We are Calgary's leading window film supplier and installer, and carry and stock a wide variety of films to suit your needs. Our films patterns and colours can be customized to suit your desires and your needs.
Installing a custom etched film can help advertise your business while also offering other benefits such as: security, cooling and heating regulation, and privacy.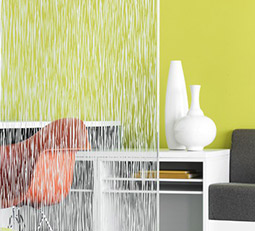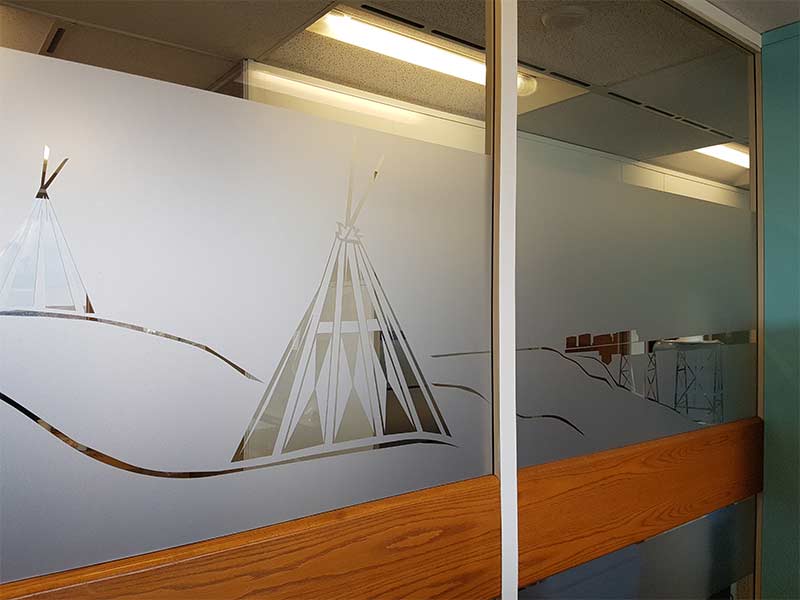 Designer and Etched window film is a cost effective way to add additional security to your working space. The film can help prevent your windows from unwanted breakage. Accidents happen, and replacing the windows in your commercial building can be extremely costly. Tinted film can help prevent the window from breaking or shattering, offering you peace of mind and security.
Designer and etched window films can offer your commercial space the perfect amount of privacy while still maintaining the amount of natural light that transmits through the space. With a large variety of designs, colours, and opaqueness to choose from, you are sure to find a film that offers you the perfect amount of privacy for your office space.
Did you know that a custom etched film doesn't just look good but can make your space feel good too? Many of our customers love that the window films that are applied to their exterior facing windows can help regulate the temperature within their office. No more worrying about burning leather chairs or running the AC on overdrive. An etched film can help prevent unwanted heat and UV rays from permeating through the window, allowing the temperature within the office to be maintained and consistent throughout the day. This remarkable technology can help keep you and your office space protected from harmful sun rays!