When you spend so much time at work, it is important to be comfortable in your environment. With tons of projects to complete in a day, having the heat from the sun beating down on you can slow you down. What can you do about this? Window tinting lets the sun shine in but keeps the temperature at a comfortable level.
As an added bonus, you can express your company's slogan with custom window etching and designs.
Need a little extra security for your display windows? Addition of safety film can help prevent breakage while keeping your business items secure.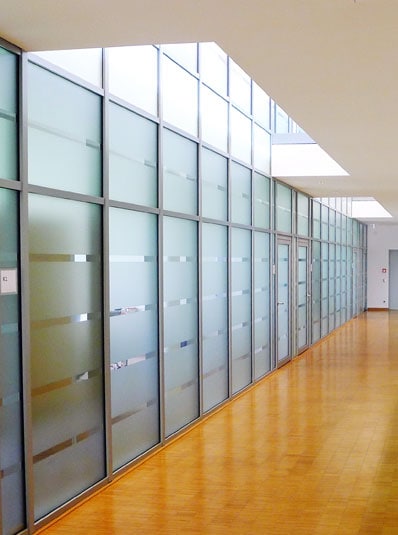 Window film can drastically change how your business operates in the best way possible. Come see our variety of commercial films to make your space unique, comfortable and safe.
---
There is a unique adhesive on one side of the window film, protected by a clear liner. The liner is taken away when installing and the window film professionals clean and prepare the glass. Once these steps are complete, a mounting solution, squeegee, and trimming blades are used to prepare, fit, and place the film on to the glass.
Yes, your window film needs time to cure (dry-out) in order to properly bond to the glass. The length of time it takes to cure is dependent on the film type, temperature, and sun exposure during and after the install. Your window film installer will be able to accurately inform you of the amount of time it may take to dry-out.
Yes, your window film could scratch if a sharp metal object is used on it but our films have the highest quality scratch-resistant coatings to protect it as best as possible from other items or occurrences.
Yes, your window film can be removed with time and effort.